Dear Sir or Madam,

One sector, one event — and thousands of ideas, contacts and business deals. We hope you will join us at the 42nd International Sweets and Biscuits Fair (ISM), which will take place from 29th January to 1st February 2012 in Cologne. ISM, the world's leading trade fair for the confectionery industry, will feature about 1,500 exhibitors. And for the world of confectionery, which makes innovation a top priority, the trade fair offers the best platform: for all the new and established products that reach people and markets and generate new turnovers.

Indulge your curiosity! The ISM 2012 supporting programme will take a multifaceted approach to addressing the theme "Confectionery as gifts". In addition, ISM 2012 will give you the opportunity to experience not only Belgium in its role as the ISM's partner country, but also Belgian chocolatiers at our very popular special show "ISM Chocolate Master".

Conveniently purchase your admission ticket today at www.ism-cologne.com and save up to 35%!

See you in Cologne!

Corinna Ohlendorf
ISM team

PS: ISM 2011- let yourself be captivated one more time.


LATEST NEWS on ISM++++++ LATEST NEWS on ISM ++++++ LATEST

Order tickets online in advance and save up to 35%

Why not stay for two days?

Belgium the official partner country of ISM 2012
---


Order tickets online in advance and save up to 35%



You haven't got your admission ticket yet? Why not order it at our Ticket Shop today? It is open now! It's quick and easy, and you can download your ticket right away.

Advantages for you:
Purchasing your tickets in advance will save you up to 35% on the regular price.

You can download and print your ticket right after buying.

No queuing at the ticket office.
... to the Ticket Shop

Order your catalogue easily by fax right now – we will send it you in January.



---


Why not stay for two days?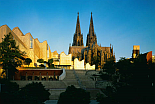 A double portion of ISM: For only €13 more, you can attend ISM and conduct business for two days. But that's not all: Be sure to book your accommodation in attractively priced hotels at special ISM discounts - starting at €85 or just a quick walk from the trade fair and recreational areas on the Rhine.

This way you can find out what it means to have twice as much time for business dealings and still be able to experience what Cologne has to offer. Winding down after a successful day at the trade fair is done here with special flair! The offerings range from the typically "kölsch" festive atmosphere in classic breweries to culinary delights to the cosmopolitan cultural attractions in this city of a million people. That's where you can recharge your batteries and return for a second day of business at ISM.



---


Belgium the official partner country of ISM 2012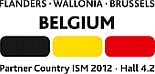 Belgium will be the second partner country presented at ISM. There have always been strong turnouts of Belgian companies at ISM, and at the 42nd ISM they will of course also represent their country and present their specialities in the confectionery and snack item segments. Flanders Investment & Trade, Agence Wallonne à l'Exportation et aux Investissements Etrangers, and Brussels Invest & Export are the organizers of the programme of activities that will put the spotlight on the partner country Belgium at ISM.

Belgium is especially famous for its chocolate-making, and above all for its pralines. Belgian chocolate will be presented at ISM in Hall 4.2 in a seemingly endless variety of shapes and flavours — including many that are still made by hand. At the special show ISM Chocolate Master, which was introduced with great success in 2011, the partner country Belgium will play a key role in giving top master chocolatiers a showcase for their art. Here ISM visitors will witness the highest level of craftsmanship and innovative chocolate design.



Trade visitors
The trade character of ISM is fundamental to the success of this event. Therefore, qualifications as a trade visitor must be provided when entering ISM.

Unsubscribe from Newsletter


Koelnmesse representative in your country:
Inter Arab Est.
Manager: Eng. Elie KHOURY
P.O.Box: 1547 Jounieh
LEBANON

Tel.: +961 (0)3 312890
Fax: +961 (0)9 642884
interarab@cyberia.net.lb


Office Germany:
Khoury Verlag
International Trade Fair Services

Manager: Dr. Marc KHOURI
Petersbergstr. 97
D-53177 Bonn
GERMANY

Tel.: +49 (0)228 353834
Fax: +49 (0)228 352996
Mobile: +49 (0)179 57 85 769
m.khouri@khoury-verlag.eu
www.khoury-verlag.eu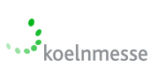 Koelnmesse GmbH
Messeplatz 1, 50679 Köln
Germany
Phone +49 180 520-4220
Telefax +49 821 99-1220
ism@visitor.koelnmesse.de
www.ism-cologne.com